Saturday morning, I woke up congested, achy, and with a pounding headache. Today... pretty much the same. And to top it off, Hunter woke up with dried snot covering his face. Lovely, we both have this crud. It's times like this that it seems a little unbearable for Jesse to be gone. Momma needs a break to take care of herself and get better! I've had a couple sweet friends offer to take Hunter, but it just doesn't make sense for them be be exposed to these icky germs. So we are just going to confine ourselves to the house and hope we are better by the time Jesse gets on in a couple days.
So, what do these sick days look like in our house? Lots and lots of movies. I think we've watched Monsters, Inc. and Alvin and the Chipmunks each three times since Saturday morning and Shrek twice. I got a little antsy yesterday and started playing around with scraps of fabric I had laying around, we painted a birdhouse for grandma's birthday and Hunter ate some Harry Potter jelly beans.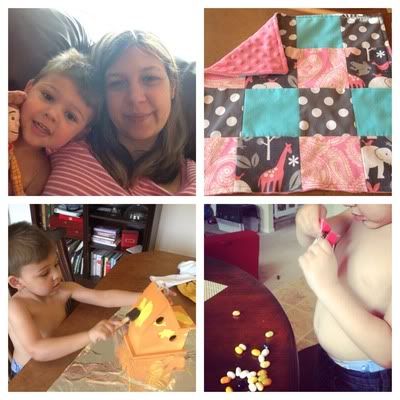 And now to the Devil's Food Cupcakes with Cream Cheese Frosting recipe!
Both from Martha Stewart
Devil's Food Cupcakes
3/4 cup unsweetened cocoa powder
3/4 cup hot water
3 cups all-purpose flour
1 teaspoon baking soda
1 teaspoon baking powder
1 1/4 teaspoon salt
3 sticks unsalted butter
2 1/4 cups sugar
4 eggs, room temperature
1 cup sour cream, room temperature
1. Preheat oven to 350 degrees. Line muffin tins with paper liners. Whisk together cocoa and hot water until smooth. In another bowl, whisk together flour, baking soda, baking powder, and salt.
2. Melt butter with sugar in a saucepan over medium-low heat, stirring to com pine. Remove from heat, and pour into a mixing bowl. With an electric mixer on medium speed, beat until mixture is cooled, 4-5 minutes. Add eggs, one at a time, beating until each is incorporated , scraping down sides of bowl as needed. Add vanilla, then cocoa mixture, and beat until combined. Reduce speed to low. Add flour mixture in two batches, alternating with the sour cream, and beating until just combined after each.
3. Divide batter evenly among lined cups, filling each three-quarters full. Bake for 20 minutes, rotating halfway through.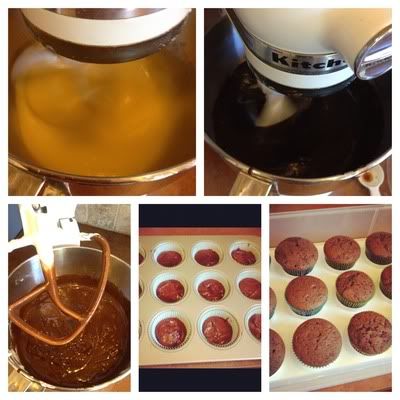 Cream Cheese Frosting
(this one is seriously the best one ever!)
2 sticks unsalted butter, room temperature
12 ounces cream cheese, room temperature
4 cups powdered sugar
3/4 teaspoon pure vanilla extract
With an electric mixer on medium-high speed, beat butter and cream cheese until fluffy, 2 to 3 minutes. Reduce speed to low. Add sugar, 1/2 cup at a time, and then vanilla, and mix until smooth and combine. If you want to add color, use about 1/4 teaspoon of food coloring gel (found at craft stores).
I then pipe the frosting on the cupcakes using an closed star tip.
And then, ta-da!! :)