Yup, already 2/3 of year old, sigh. Oh man, does this baby have my heart. I just look at him and swoon, probably because all I have to do is look at him and he gives me the biggest grin. Such a happy and easy boy.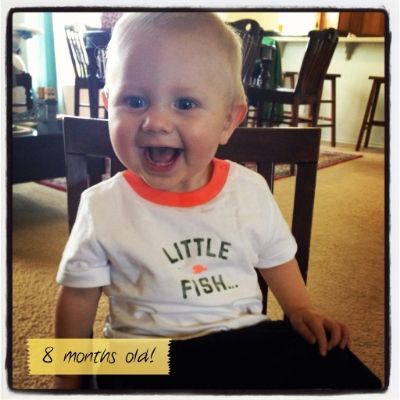 Yup, I said he's easy. The first four months or so with Hudson were rough, easy would be the last word I would've used to describe him. But now...that's exactly what he is.
He had an ear infection that was caught last week after me taking to the emergency room with a 104 degree temperature that I couldn't get to go down. Even during that time, there was only about an hour or so that he really cried, mostly just some fussing. His ear is clearing up. We are hoping to schedule his test at the OU Children's hospital sometime next month. Still praying for healing.
He weighs about 17.5lbs but not sure about his height, I would guess around 29 inches. I was finally able to pack up all of his 3-6 month clothes, what a little peanut!! He's wearing all 6-12 month and 9 month clothes. He's just a long and skinny little guy.
He's not doing much new physically this month. He's on the verge of crawling, but not quite there yet. He very quickly rolls to where he wants to be now. Hudson is also giving kisses more often when I make a "kissy face" at him. He also responds to the "jump" sign and starts bouncing up and down.
Speaking of signing, I've really dived into learning sign this month. I started with the alphabet and have got that down well and have moved into other useful signs as Hunter or I think of them. The signs we use on a regular basis with Hudson are: eat, milk, mommy, daddy, sleep, Jesus, more, diaper, and jump. The only ones that I'm sure he responds to so far are jump and milk.
I'm starting to see what I think is his first "communication" delay, probably due to his hearing loss. He still is not making any "da-da-da" or "ma-ma-ma" sounds. He talks a lot but is all cooing with vowels. I've seen several friends post about their children the same age or a little younger doing this, but we haven't seen Hudson make any of these sounds. I've tried to go back to my blog archive to see when Hunter started making these sounds, but no luck, must not of documented it. Bummer.
Hudson is still a champion eater. He happily takes a 7 oz bottle about five times a day. He hasn't met a food that he didn't like yet. I'm still doing a mix of purees and whole foods. He'll eat any and all of whatever you put in front of him.
Sleep. Does this boy like his sleep! He's sleeping about eleven hours straight each night and then takes three naps each day. He's usually only up for about two hours before he starts fussing for nap time. He goes down SO easily. I just lay him in his crib and give him a pacifier and 90% of the time, I don't hear another peep until he's waking up! He usually gets in one long nap that's 2-3 hours and then a couple 1-2 hour naps. And....he's been swaddle-free for over a week now! Didn't think we were ever going to get there! There has been no affect on his sleep with taking the swaddle away.