Yup, you read right. My baby is only a month away from not being a baby anymore. The time sure has flown by. To party plan or not to party plan? Right now we are thinking of just getting out of town since his 1st birthday is the day before my 30th birthday. We're thinking either Dallas or Branson for 3 or 4 days. I bet get on that.
Hudson is cruising on the furniture like a wild man, not quite walking yet though. I'm kind of liking that he's not walking yet, trying to keep him more baby-like for as long as possible! But he's still pulling up on everything and crawls over obstacles like nothing is too big for him. If he's on the couch, he easily gets down on his own.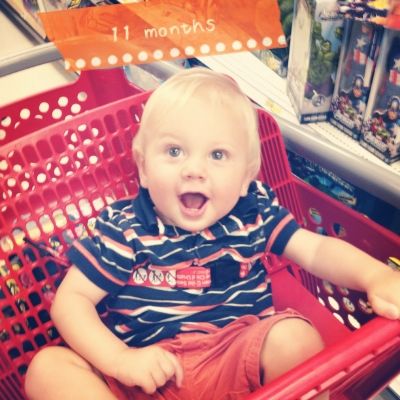 This boy was made to eat and sleep. That's pretty much what he does with the majority of his time. He sleeps 12-13 hours straight at night and then takes 2 two hour naps each day. He's not really on a schedule on what time he goes down for naps and bed, we just kind play it by ear each day. He usually only likes to be up for 2.5-3 hours between each nap/sleep. This kid eats anything and everything still. We have yet to find a food he doesn't like, he just gobbles it all down. I keep meaning to take a video of him eating a whole banana...it somehow only takes about 20 seconds for him to accomplish the task.
He has a completely different temperament than Hunter did at this age. Hunter was more content to do whatever, he would sit on your lap, watch TV, play with whatever toy you put in front of him. Hudson, not so much. Don't get me wrong, he is a very easy baby.... as long as you feed him or put him down for a nap the very minute he wants it. He's not very patient. And he's into everything, never stops moving, and rarely wants to be held. Much more opinionated and independent than Hunter was.
We went to Oklahoma City to take him to see the audiologist for a behavioral hearing test and for a follow up with the ENT to see how the tubes in his ears are doing. They did the test without his hearing aids and his hearing is quite a bit better than what the sedated test showed last month. The audiologist seemed quite puzzled. (Here's a rundown of all the test results we have gotten, which my explain why is this so frustrating. Diagnosed in October with mild-moderate loss, behavorial test in April was mild, sedated test in July was moderate with a small dip into severe, yesterday's behavioral showed mild.) He's always done much better in the behavioral tests than the ones that measure his hearing level with brain waves. Anyways...we are continuing to pray for improvement and healing.
He's still not making any consonant sounds, like ma-ma or da-da. Not stressing too much about it yet. I don't think Hunter did until 10 or 11 months and Hudson's "hearing age" started when he got his aids at 3 months old. So they would expect him to be at least 3 months behind. We'll see...
Hudson still loves playing with his brother and dog all day long. Three little buddies, I love it! He's still easily in 6-12 months clothes and size 3 diapers. I weighed him on our scale today and he's about 20lbs, so that means he's put on over a pound in the last month. Woo-hoo!!