I know everyone loves their child... or at least I sure hope so! With another baby coming soon, I've really been trying to cherish my one on one time with Hunter, and am really realizing that I really LIKE my kid as well as love him. I'm really going to miss it. Especially since staying at home over the last several months, he has become my little buddy.

I really enjoy my time with Hunter. We do everything together and he is just so fun to be around. I've seen a lot of posts lately about how terrible two's are and if they aren't, then three is going to be hell. Hunter has his terrible two moments, but they come and go quickly. I'm just bracing myself for these stages of awfulness that people speak of.

I love running my errands with this little man. Our trips out often include a trip to Starbucks, Chipotle, or Jamba Juice. These are some of my favorite times with him, like they are our little mother-son dates. It's our time to chat and have fun together...and indulge in some yummy treats. ;)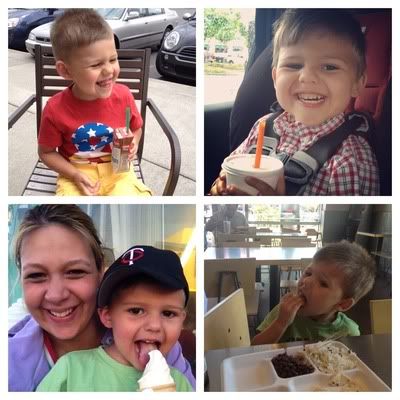 He might have a hard time when the new baby comes, or he might not. But one thing I know is that while I am so excited to welcome another little baby boy into our family, I am going to mourn the loss of this time with Hunter. I am scared. I am scared of how I am going to give Hunter the time and love that I have been able to give him, but I am equally scared to give it up for myself. I really like my time with Hunter. We laugh, cuddle, play, and learn together. He is fun, compassionate, funny, smart, and such a great buddy.
So moms of two or more already, please give me some encouragement!! Does it just magically happen that your heart and time double and you have just the right amount of time for both? Or is it an adjustment?