Weight Gain: Up 16 pounds. I wish I wasn't having such a hard time dealing with this weight gain, but I kind of am. I was debating on whether or not to stop answering this question. But... I try to keep this blog honest. So here it is. I gained 40-45lbs with Hunter, so I might be repeating that :(
Stretch Marks: Same old ones, but starting to show a little more than they did.
Movement: Constantly feeling this babe kick and move! I love it.
Cravings: Nothing in particular besides fruit. Been going through Costco sized strawberries, watermelon, and grapes every week.
Sleep: Back to tossing and turning from 4am-6am everyday. Hunter has started waking up at 7:30 every morning, which is about an hour later than usual. Ugh.
Best Moment this Week: Not a great week for me. I have been so overwhelmed and stressed out by the upcoming move. I broke down and cried for a good half hour yesterday, it's taken it's toll on me. I'm going on two weeks of preparing for a garage sale and packing every single day while taking care of Hunter. It's proved to be a bit exhausting. Jesse is leaving tonight through Monday to Eastern Washington to go Turkey hunting... so that's adding to the stress with only a week left before moving.
I guess the best moment of the week was my doctor appointment on Monday, everything is text book and is looking good!
Maternity Clothes: Yup, most of the time. Going to have to breakdown and buy some maternity jeans this weekend. I was hoping to be able to get by with capris this summer, but this rain is not allowing that. A Pea in the Pod, here I come!
What I miss: Not a whole lot :)
What I'm looking forward to: This move to be over with and to be settled at "home". I'm envisioning a lawn chair on the back deck with a virgin margarita...oh yeah, and SUN!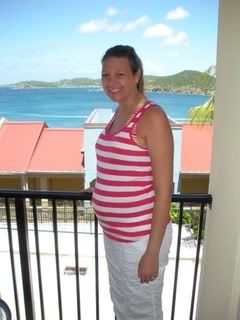 This is me at 22 weeks with Hunter in St. Thomas.