Weight Gain: Up 14 pounds. Yup, I exploded. 5 pounds in two weeks. I've actually been eating pretty well, so I'm just going to go with it. I was starting to get quite quite a complex with my weight gain because all I could think of was that I didn't gain any weight with Hunter until after week 18. Well, then I pulled out my pregnancy journal and realized I gain 13 pounds between week 18-23. Wowza! Feeling a bit better.
Stretch Marks: Same old ones.
Movement: Constantly feeling this babe kick and move!
Cravings: Cereal with fresh strawberries or blueberries in it.
Sleep: Awesome! I'm in a new routine. I'm been staying up until 11pm and waking up to make Jesse's lunch right before he leaves at about 7:30am. No middle of the night wake ups to go to the bathroom or check the time. It's pretty amazing!
Best Moment this Week: Seeing my lope sided belly. I could very much tell that this little guy was sticking out his booty. Oh yeah, I'd be lying if I didn't admit that I am loving that my boobs are growing, even if it's temporary, I'll take what I can get! :)
Maternity Clothes: Yup, most of the time.
What I miss: Not a whole lot :)
What I'm looking forward to: Watching this baby grow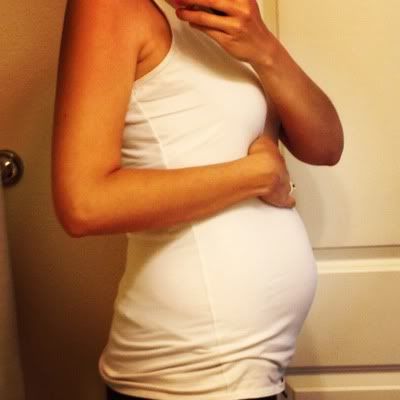 Oh yeah, and we agreed on this little guy's first name! Baby #2 is Hudson!
We are still very undecided on the middle name, but are playing around with three that we pretty much like equally. I know most people don't like to share names until the baby is born or until at least they are 100% certain of the name, but heck, I'll share are top three middle names:
Drake (a male mallard duck...due to Jesse's duck hunting obsession)
Harold (my paternal grandfather's first name)
Turner (my maiden name)
So there ya go, chances are that we are going to have a Hudson Drake, Hudson Harold, or Hudson Turner. Feel free to give me your opinion!