My kid tried to escape yesterday! Seriously.
Hunter and I had a play date with our friends, Rachel and Cole. The boys are only 4 days apart, so it's so fun to see them play together.
In the middle of our play date, I realized that Cole was in the living room but I hadn't heard Hunter for a couple minutes. So, I got up and looked in the hall, no Hunter. The bathroom door was shut, but I still opened it and checked under the cabinet, since he likes to hide there. No Hunter. Checked the coat closet and the closet under the stairs, still no Hunter. I ran back into the living room and asked Rachel if she'd seen him, nope. We checked in the bathroom again... as I turned around and faced the window, I saw Hunter at the end of the driveway, in the rain, with no shoes on, staring at me through the window with a big grin.
So that means... Hunter has now learned how to open the front door and he was also sneaky enough to close it behind him as well. Lovely.
I ran outside and scooped him up as he giggled. My little boy is a prankster. He knew what he was doing. I'm so thankful that the situation wasn't worse. My heart stopped when I saw him outside because I got to thinking of all the bad things that could've happened, but am thankful they didn't. Lesson learned. I will be going out to get some safety locks for the door handles today.
Here is a picture of my reenactment of the scene: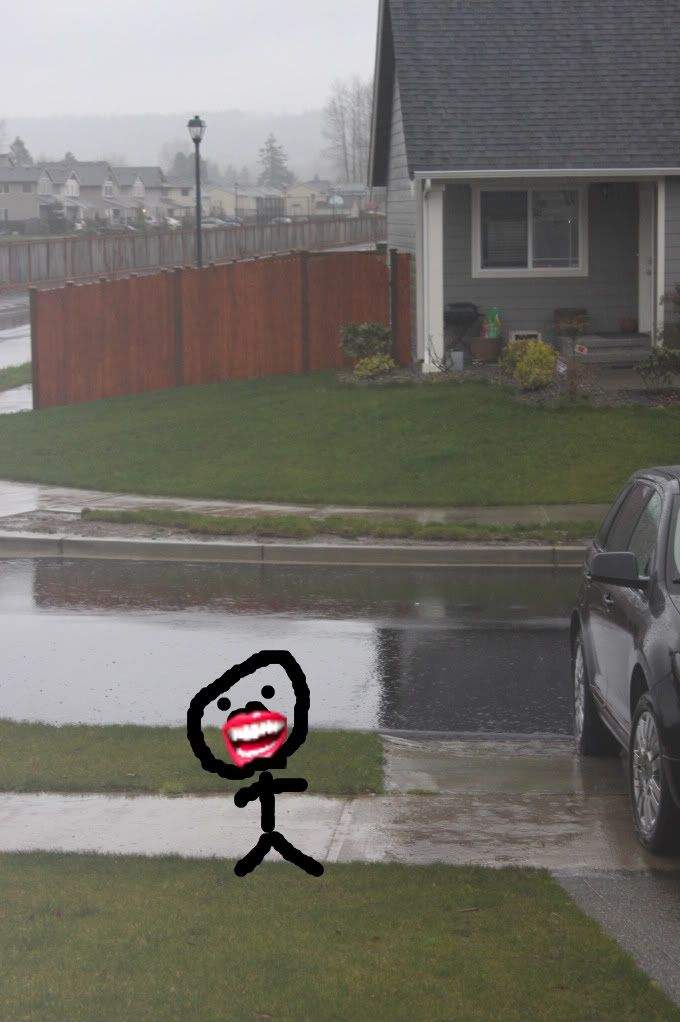 Here are some pictures of the rest of the afternoon: (Note Hunter has no pants on because they got soaked while he went on his little adventure outside)