It pours in our family. I promise to lighten up the mood of this blog soon and stop spilling out my sob stories. But man, we just cannot seem to catch break these days.
I might have mentioned it in other posts, but maybe not. Four weeks ago, the water line to our fridge leaked and caused some major water damage to our house. The drywall and flooring was ruined. So a water damage company came and the affected flooring, which turned out to spread into both the living room and dining room as well. They removed all our appliances and the bottom cabinets, too. We had to live in a hotel for two weeks, until the flooring was replaced.
Well, when we had someone come in the do the drywall and put the bottom cabinets back in, it was discovered that the cabinets were ruined when they were taken out and so was the dishwasher. So, the insurance adjuster came out and agreed that they were ruined and approved for us to replace all the kitchen cabinets, counter tops, and the dishwasher.
Jesse found a local cabinet place online and a guy came out to give us a quote. It sounded good, so we gave him a check for $1500 for him to order the cabinets and counter top. They were supposed to start installing last Wednesday. We hadn't heard from him, so Jesse called him on that day and the guy told us that a couple of the cabinets were back ordered and would be in on Monday (3 days ago). We called on Monday a couple times and left voicemails. He never returned our calls and still has not. I tried again yesterday and his phone was disconnected! He cashed our check and ran!
So...Jesse has been out of town all week and I'm trying to deal with this on my own. I've been running all over town today to start the process over, so there is not an even longer delay in getting our kitchen back. One place told me that ordering the cabinets would take four weeks. Call me crazy, but the idea of having no kitchen for another month is just not going to work! So I went to another place and he's coming to do measurements tomorrow morning and said that he might be able to get them in and done in a matter of days. Yes, please!!
Before the cabinets and appliances were removed and floors were replaced.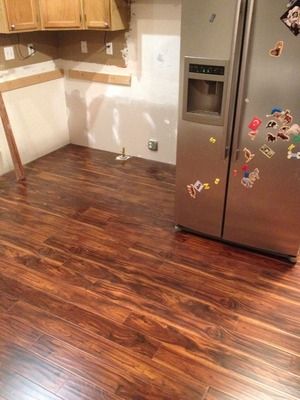 Without cabinets and appliance (except fridge) but the floors are replaced! This is how it currently looks. The top cabinets are still in, but they will be removed and replaced.
So yeah...in the last month we have been dealing with this, Hudson's diagnosis of a hearing loss, and orders to Oklahoma. Oh yeah, and learning how to handle two little ones ;) I might be on the verge of insanity these days.
I already feel my faith growing stronger than ever before. I can't help be see the blessing that God has given us. Sometimes I find myself pitying myself a bit, but overall I'm finding the good in everything that God has thrown our way. We are strong and will get through this, even if it feels like I'm drowning at the moment.
This song came on this morning in the car while I was running errands like a crazy woman. It really spoke to me and I couldn't help but take a breath and be thankful and sing His praises!
"Whatever may pass and whatever lies before me, let me be singing when the evening comes"