So....where to start? Well the day after Hudson was born, he did not pass his newborn hearing screening test at the hospital. They figured it was amniotic fluid that hadn't cleared out and had a schedule an additional screening. Fast forward a few weeks and he didn't pass a second screening. I still wasn't that worried. I wasn't told not to bring other children with me, so Hunter was in the room and was not doing a very good job of being silent. The tech said that can cause some issues during the hearing test, but still referred us to see an audiologist.
I asked a few people to pray for Hudson's ears. And I continued to do so daily. I asked God to give him perfect hearing and to let the next test go smoothly. I woke up this morning and prayed. But this time it was different. I suddenly felt only the need to pray for His will be done and to give our family peace in whatever God's plan was for Hudson. I prayed that I would thank Him for being so faithful regardless of the outcome and to give all glory to Him.
This afternoon, Jesse stayed home with Hunter while I took Hudson to his appointment for more extensive testing. He needed to sleep during the testing, so I kept him awake and unfed for a couple hours before the appointment. While in the waiting room, I took a picture of him and posted it on Instagram asking for prayers. I sat in the waiting room and was comforted by all the kind words and knowing that there were several people out there praying for us at that very moment.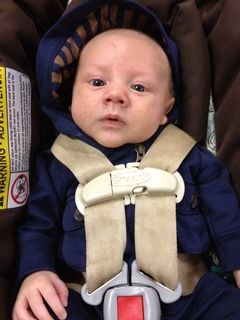 Once we got there, the doctor had me change him, swaddle him, and feed him. He fell right asleep and I was able to hold him during the hour long testing. The testing measured his brain waves while different sounds at several volumes were played into his ears. I watched the doctors face during the testing and I thought I sensed some sadness in her eyes as she conducted the tests.
At the end of the testing, she told me that he has moderate hearing loss in both ears. It is permanent and he will need hearing aides. She said that it is so great that it was caught this early because he will not be delayed in his speech or learning nearly as much as if we didn't find out until he was two or older. I tried to keep it together, but a few tears rolled down my face. How could this be happening?!
I made it to the car and then just cried and cried. I finally called Jesse and continued to cry before I could break the news to him. He just felt bad for Hudson. I had a million thoughts running through my head. "Will he feel left out at school?" "He won't ever be able to join the military." "What if kids make fun of him?" "What if he's about to get hit in a parking lot and he can't hear me when I yell for him to watch out?!" Yeah, us moms are a bit crazy.
I've cried off and on tonight. It's rough and I can't help but just be sad for my little guy. But, I am thankful that I haven't felt mad or bitter, nor have I questioned God. He has a plan for my littlest guy. And His plans are perfect, mine are not. We will be blessed by this, not condemned by it. I will still pray for miraculous healing, but if not, I know that it will benefit Hudson in ways that I have no idea about right now. I pray that Jesse and I welcome this challenge and that it makes us more patient and stronger. I pray that it will teach Hunter about compassion. I pray that it will make Hudson stronger than he would be otherwise, that he will have an amazing testimony to share one day.
Please pray for Hudson, that God's will, will be done and that we grow as a family through this. We have to schedule another testing, get a referral from the ENT doctor, and then will be going to Mary Bridge to get Hudson fitted for hearing aides. I will make sure to keep you all updated.