So, unfortunately I didn't get much response to my post about the Bloggers for Babies group that is walking for the March for Dimes...oh wait, just about no response. Haha, that's alright. Well, I really feel strongly about this cause to help with the medical costs associated with babies born prematurely or with medical complications, so I decided that I would giveaway TEN of the baby blankets that I so love to make!!
Haven't seen them? Go
here
to see some pictures and read the details of them. They are a soft minky dot material on one side and cotton flannel on the other and measure approximately 36"X30".
How do you get them?? Well, the first ten $25 donations to the March for Dimes through the below link, will be mailed a blanket! Not ready to spend $25? I can do two burp clothes for a $12 donation. High roller? No worries, I will send you a blanket with two matching burp clothes for a $40 donation! They make great baby or toddler blankets. Don't have a child, no worries, this will cover the next baby shower you attend!
Here is a picture of the blanket I ended up making for the last giveaway winner and one of the burp clothes I made recently.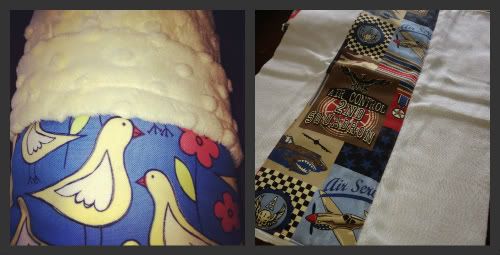 Want to donate and have a baby blanket, burp clothes, or both mailed to you? Click on the "donate now" button below. Then leave me a comment letting me know if you would like a girl, boy, or gender neutral blanket/burp cloth. (Don't know how to comment? That's okay, I can get your e-mail off of your donation). I will get in touch with you and give you several color/pattern options. Also, I will mail these out in the order that people donate them. Please give me up to six weeks to get the last ones mailed out. Thanks!!! :)