I've been meaning to write about the struggles I have had losing the baby weight after Hudson. But...I think it was just too frustrating for me. I have been doing all the things I did after I had Hunter and dropped a ton a weight...but with no change to the scale. I was eating Paleo and working out. But, nope. As of the day we got back from Dallas, I was still hanging onto almost 16 pounds.
Granted, I did start the pregnancy at a fairly low weight and I'm not saying that I was at an "unhealthy" weight. But, I just haven't felt confident. My clothes don't fit and I'm just unhappy when I look in the mirror, like I don't recognize myself.
I'd seen people get amazing results doing the 24 Day Challenge. Jesse and I got hooked on Advocare's energy drink, Spark, about 3 months ago. I think seeing how great I felt with drinking Spark made me believe in their products a little bit more and I was ready to commit to 24 days.
The first 10 days are a cleanse period. Eating "clean" and taking some herbal cleanse pills, probiotics, fiber drink, and a OmegaPlex capsule. I lost 6lbs during those 10 days and felt awesome.
I am now on day 5 of the max phase. I feel good, lots of energy, and just overall more healthy. The scale is down a couple more pounds, bringing me to 8lbs lost...in two weeks. This is weight that would not budge. I'm also down an entire pant size.
AdvoCare products work. I am convinced and Jesse is, too. He's going to be taking the challenge soon. We are both using Spark and Catalyst (ah-mazing!!) and I'm taking a series of vitamins and supplements along with it. It's my plan to continue on this routine until I get these last 8lbs off my body.
Here are my 12 day progress pics: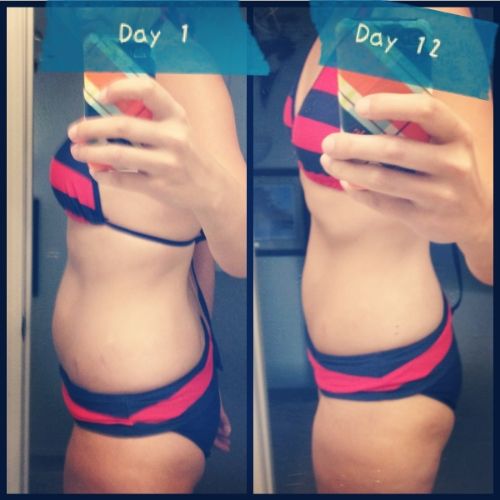 I love this stuff so much that I signed up to sell it. I'd love to help other people reach their goals. On average, people who do the challenge lose between 10 and 20lbs and 10 inches off their body! If you are interested in these products, whether you want to tone up or lose weight, let me know. I also have a plan for pregnant or nursing moms. If you sign up for the challenge with me, I will be right there encouraging you and supporting you along the way. I will make a meal/snack plan specifically adapted to your goals and your food preferences. You also get access to my amazing and very knowledgeable team.
E-mail me at turnersa@gmail.com and go check out my
AdvoCare site
Order by October 3rd, in time to drop a "pumpkin" off your body by Halloween, and I'll send ya an extra box of Spark for FREE!
Don't want to do the challenge? There are a lot of great other products. Like I said, Spark is awesome!! It's a sugar-free energy drink full of vitamins. Catalyst is a miracle supplement, especially if you are working out, it protects your muscles and helps get the toned look your are trying for!