Weight Gain: 22 big ones.
Stretch Marks: Same ole ones.
Movement: Yup, baby boy is getting bigger and stronger, I can tell!
Cravings: Sandwiches with avocados and cucumbers! Gotta find some sprouts and then it'll be perfect.
Sleep: Really good still. Surprisingly, I don't get up in the night to pee. I'm starting to get a little uncomfortable and have to roll from one side to the other often, but doesn't seem to interrupt my sleep much. I keep telling Jesse that it's just a matter of a couple weeks until the big maternity pillow will be joining us in bed. ;)
Best moment this week: Staying active! Hunter and I have gone to Stroller Strides, walked Capitol Lake twice, and did a short hike...all in the last four days. I'm really enjoying being back to this area. There are so many things to keep us busy!
Gender: Boy!
Labor signs: Just starting to feel small contractions. My body is getting ready! :)
Maternity clothes: Umm, yeah! The only thing non-maternity that I still wear are my Lululemon pants. I have two pairs that still fit and I practically live in!
What I miss: Having a waist...Yup, still missing that one. And my butt not looking as big as my pregnant belly. Ugh.
What I'm looking forward to: Doctor's appointment on Monday morning. I always look forward to hearing his heartbeat. But...it's also the dreaded glucose test for gestational diabetes. I am actually kind of nervous about failing it. I seem to be gaining 1-2lbs every single week no matter how careful I am.
I'm also looking forward to getting our vegetable garden planted in our raised flower beds. We have to get some garden soil this weekend to fill them more and then we should be set to get planting!!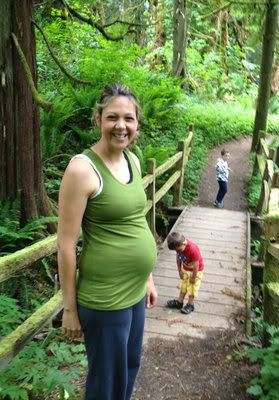 I've had a few people ask where I get my maternity clothes so thought I would start adding where I got the clothes in my bump pictures.
Top:
Shade Clothing
, Pants:
Lululemon
Shoes:
Inov-8