I can't believe I haven't made time for this little blog for almost three weeks. Life has been crazy, but it's starting to slow down a bit and give me a chance to catch my breath. So how about some updates... ;)
Hudson's Hearing
We had a repeat ABR (extensive hearing test) for Hudson a couple weeks ago. The results were the same as before; a sensorineural mild-moderate hearing loss in both ears. This time the audiologist at Madigan was able to enter his exact hearing loss into a simulation for us. She played both adults and children talking at normal hearing, then at Hudson's hearing, and then at what they would expect with hearing aids. This was so helpful. When played at how Hudson hears it, a person who already knew language could strain to understand what was being said, but it was apparent that it was not enough to learn language. The hearing aids won't bring him up to 100%, but at a level that learning language really shouldn't be an issue. If he has difficulty, it'll be hearing with a lot of background noise.
The audiologist granted us the referral to Mary Bridge before having to wait for our appointment with the ENT specialist, because I expressed concern about getting everything taken care of before we move. So, last Friday, we had our appointment to get his ear molds done. We are so thankful to know one of the audiologist at Mary Bridge and were fortunate enough to get to work with her! She answered all of our questions and we got to pick out the color of both the hearing aids and the molds that will fit inside his ears. I can't believe how many choices there were! We went with a nude/bronzish color hearing aid that blends nicely with his hair and then a skin tone colored mold. I figure he can choose whatever he wants when he is older. We have an orientation and also his hearing aid fitting on December 7th! He'll be walking out of that appointment, on his three month birthday, with a new outlook on the sounds around him!
I really thought that I would be experiencing some tough times when counting down until he gets his hearing aids, but I can honestly say that I am just SO excited for him to be able to hear better. I can't wait to see if he has a reaction when they turn those little things on!
We also are pursuing some early learning intervention. We have his evaluation next week and also an appointment to go over the results and setting up a plan for going forward. I am so thankful for all the resources we have found to help our little get as much help and support as possible!
Other Hudson News
We had his 2 month well child check a couple weeks ago. He was 11lbs 10oz and 23.5 inches long. He's such a little peanut compared to how big his big brother was! The doctor was very thorough. He probably has a clogged tear duct that is causing his left eye to get a little goopy, but the doctor said it will most likely clear up in the next couple months. He is still battling a little bit of reflux, but I've cut out most dairy from my diet, which has help a ton! He's also sleeping pretty darn good. He usually sleeps about six hours, eats, sleeps three hours, eats, and then sleeps for another two. Last night he actually slept eight and then three! Hopefully that continues! He is starting to making cooing noises and smiles at us all the time, melts my heart. He's still wearing mostly 0-3 month clothes, but also some 3-6 months just in the last few days. Stop growing up so darn fast!!
Hunter

Oh, Hunter. This boy has my heart, but boy is three proving to be more difficult than two! He's so fun, energetic, smart....but along with that comes defiance, stubbornness, and a whole lot of sass. He's definitely keeping me on my toes! He's doing great at preschool and seems to be making friends easily. He even has a girlfriend, ha! He had a great time at Disneyland (more to come on this) and proved to be quite fearless.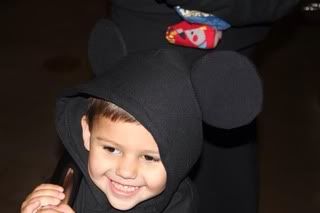 Our Kitchen

It's done! As of last week, we have a completed kitchen, after seven weeks without! I've never been so eager to cook and do dishes in my life. Jesse doesn't even recognize the woman who wakes up and eagerly makes breakfast for the family.

We are really happy with the way it has turned out and I guess all the hassle was worth it, now that we have it back and it's pretty much all brand new!